Midsomer Norton Community Band is back!
After a two-year break due to COVID restrictions, local musicians in the Midsomer Norton Community Band reassembled for the first time on Tuesday, 26th April. Due to the pandemic the band has been unable to meet – until now!
Wednesday 11th May 2022 2:30 pm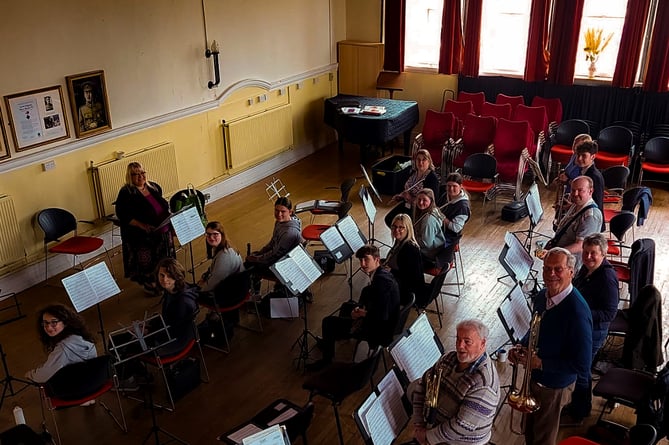 (Midsomer Norton Community Band )
Subscribe newsletter
Subscribe to our email and get updates right in your inbox.
MSN Community Band was created in September 2017 by local music teachers Amanda Garland, Lindsey Sloman, Fiona Langley and Katharine North – all of whom had recognised a decline in Government and curricular support for music in schools. They felt passionately that there should be an outlet for local young musicians of Grade 2 standard and above to get together to make music.
The band is led by Fiona Langley who retired as the Head of Music at Writhlington School in 2015. She said: "We wanted to encourage young musicians to experience playing as part of a big band,"
"This band offers young musicians from Midsomer Norton and surrounding areas the opportunity to mix with older, more experienced musicians and to benefit from playing their instruments in a relaxed and fun environment."
When it was formed, there were fourteen band members and rehearsals took place in a small room in the back of All Instruments Music shop.
As word spread, the older musicians expressed an interest and the band started to cover several generations - with the older members mentoring the younger ones. "Numbers grew and we had to move to Midsomer Norton Town Hall. Before Covid we had over thirty musicians aged from 12 – 81 years old attending each week," recalls Amanda Garland.
When Covid hit, MSN Community Band was at its strongest. It was performing concerts every term and even busking outside Tesco at Christmas to raise funds for music and equipment! Like all clubs and societies, in March 2020 it suddenly stopped.
Now, the band is back! But not without a little apprehension, as Katharine North explains: "The first rehearsal was last Tuesday. We were concerned that nobody would come back. We have lost a lot of our musicians over the past two years, as they left school and moved on. But we have been impressed how many of the other musicians have continued to play their instruments during lock down. We have had some of our original band return plus a lot of new 'starters' both young and older and we are thrilled with the positive feed back we have had so far."
Toby Salvage, a student from Norton Hill School, has been attending MSN Community Band since it started five years ago: "It is nice to be back making music together.
"It is a bit like playing as part of a big family and you go away with a great feeling."
18-year-old Jack North, who, along with his Grandfathe, Paul Undery, have been members of the band since the beginning, said: "It's something different to do. It's nice to meet other musicians from other schools, especially after spending so long in lock down."
MSN Community Band rehearses at Midsomer Norton Town Hall at 4.15pm -5.45pm on Tuesday evenings and welcomes Brass, Woodwind, Percussion and Bass players of Grade 2 and upwards.
The band is always looking for new musicians. If you are interested, please email: [email protected] or visit our Facebook page.
Comments
To leave a comment you need to create an account. |
All comments 0