Farrington Park compete for the Biddle Flag
The Biddle Flag is a stroke play competition with a twist inaugurated by former Farrington Park Ladies Captain, Jenny Biddle.
Wednesday 22nd June 2022 3:00 pm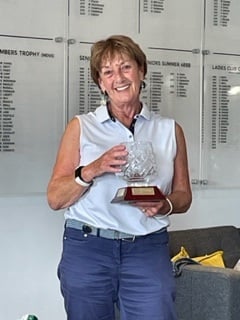 (Farrington Park Golf Club )
Subscribe newsletter
Subscribe to our email and get updates right in your inbox.
The object of the competition is to complete the Duchy course below each players' individual handicap i.e., with shots to spare; anyone doing so then has to continue around the course again until all their shots are used up and places a "flag" where her golf ball comes to rest after her last shot. In previous years, every player had a white plastic flag, but in these more environmentally conscious times, only one flag was used. The first three players carried the flag and placed it on the course, subsequent players who hadn't used up all their shots, picked up the flag and carried it until they too had exhausted their shots.
The field was divided into two divisions, those eligible to win the Trophy had to have a handicap of 36 or below and played in Division 1.
The Duchy course was in fine order on a sunny day with light winds, just perfect for medal golf and this was reflected in the scores. Two two-spot birdies were made at the par 3 15th by Jenny Howarth and Sue Skryme, respectively.
In Division 2, Marilyn Cass continued her good season with a nett 73 to take first place. Nett 75 was a popular score throughout the field, Maureen Goodsir took second place on countback from Susan Barnes, after both ladies recorded this score.
In Division 1, the fight for the Trophy was very close. Wendy Butt and Gail Proctor had shots in hand as they finished playing the 18th green and they had to start playing the first hole again. Gail managed to put her ball on the green of the first hole with her second shot, which set the Biddle Flag target for the rest of the field. Wendy finished 3rd with a nett 72 and Gail was the clubhouse leader with nett 71. However, towards the back of the field, two ladies were playing well until they reached the card-wrecking 17th hole where one came unstuck, losing two balls in the ponds. Her playing partner, Lo Dallocco took five shots at the 17th and then parred the par 5 18th. When she added up her nett 69 score, Lo realised she had shots in hand, so she made her way to the first hole and started to play it again. With the Biddle Flag already on the green, Lo had a good target to aim at and duly did so, her putt just missed going into the hole, but she had done enough to beat Gail by the narrowest of margins. A delighted Lo duly collected the Biddle Flag Trophy from Ladies Captain-elect, Pauline Young, the first time a presentation has been made post pandemic. Jane Ball
Comments
To leave a comment you need to create an account. |
All comments 0