American Cycling Challenge means retirement is just the beginning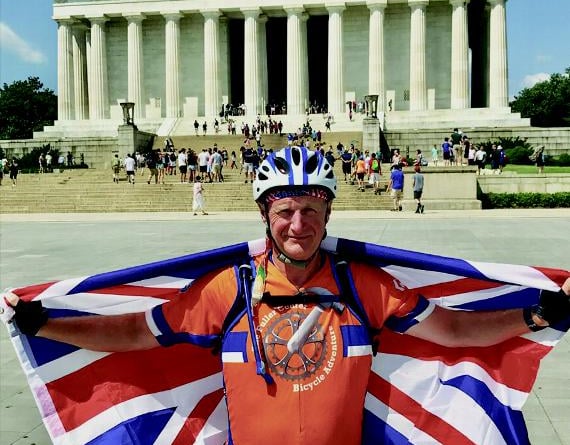 Tim Bruce, at the end of the challenge, pictured in Washington DC, having cycled 3,506 miles.
Subscribe newsletter
Subscribe to our email and get updates right in your inbox.
Readers of The Journal may recall the story we featured earlier in the year of Tim Bruce, a Chilcompton resident who had recently retired, and was taking life by the . . . well, handlebars!
Tim had spent 35 years of his career in social housing, and decided that not only would he challenge himself physically, but that he would do some good for others on the way round.
Finding himself the only Englishman, Tim joined a team of Americans to cycle a whopping 3,500 miles from Seattle to Washington DC over nine weeks to raise funds and awareness of the Fuller Center for Housing, a registered charity in America. The Fuller Center work internationally and have provided new homes to 4,900 homeless families and undertaken building renovations to some 400,000 properties.
As part of his challenge, Tim would be helping repair and renovate homes for people in need, with the team working on nineteen properties in seven locations. Little did he know of the experiences and camaraderie he would encounter along the way, but back on UK soil, Tim dropped in to The Journal office to tell us how his adventure went and how it will shape his 'retired' future.
Finishing work for good on 30th May, just days later, on 5th June, Tim was heading off to the States with 1,500 training miles in his legs. He would endure early starts, not sleeping in a bed for nine weeks and up to seven hours a day of cycling.
However, all of this mileage (3,506 to be precise), also meant that he saw a variety of landscapes and environments as he made his way to Washington, giving him a true taste of what America is about. From glimpses of the Rocky Mountains in Idaho, to rows and rows of cornfields, flooded roads, landslides, mountain climbs, and enduring all sorts of conditions: scorching temperatures, heavy rain, hail, sleet, snow and thunder, Tim's adventure saw him pass through fifteen states and six major cities, including Salt Lake City in Utah, Lincoln in Nebraska, Indianapolis and Pittsburgh, along with other landmarks such as Yellowstone and the Rockies, before making his way to Washington DC.
Tim admits to being "deflated" by multiple punctures along the way; fearing he might become "bear breakfast" at points, and had to give up at one point when suffering from hypothermia and being rescued from a mountain. Having survived the climb up, he found the wind chill too much and said at that point that "this was going to be an almost impossible challenge, both emotionally and physically for me."
Having his confidence knocked was hard for Tim, but the team rallied round and got him back on track, completing amongst other daily challenges, the Rabbit Ears Pass; over 100 miles of cycling, with some climbs up to eighteen miles long!
They were also interviewed by news crews on their journey and joined by the USA Speed Skating Team for a stretch.
Tim cites the reason for the extinction of the dinosaurs as having been sucked dry by mosquitoes, coming to a similar fate in the town, 'Dinosaur'. Covered head to toe in bites, he continued, regardless!
His animal encounters did not stop there, either, having been warned by one of his team mates to be careful of snakes in the long grass when strimming a back yard. During the 'build days', Tim helped to clear gardens, form a new driveway, paint and decorate and carry out floor and roofing repairs, amongst other tasks to help people who had been identified by the charity as in need of support.
Inspired by this good work, Tim is flying back to America this Friday to be reunited with some of his cycling team mates who will be helping to build new homes in Beauregard, Alabama, after a tornado swept through there earlier this year, killing 23 people.
Tim says: "I love the ethos of this charity; it's not a hand-out, it's a hand up – giving something back to people who have lost their homes, or perhaps their pride, confidence or ability."
He adds: "It has been a complete lifestyle change for me – this challenge has shown me that it is never too late to do something different. It has given me a new 'set of tyres', and feels like just the beginning."
Tim is now in talks with the Fuller Center for Housing to see if the idea could be rolled out in the UK. If you know of anyone vulnerable in the community who could do with some DIY help locally, or if you already do work of this kind or can volunteer your services, and would like to speak to Tim, please email: [email protected]
Comments
To leave a comment you need to create an account. |
All comments 0