Local charity rescues three greyhounds from notorious Macau Canidrome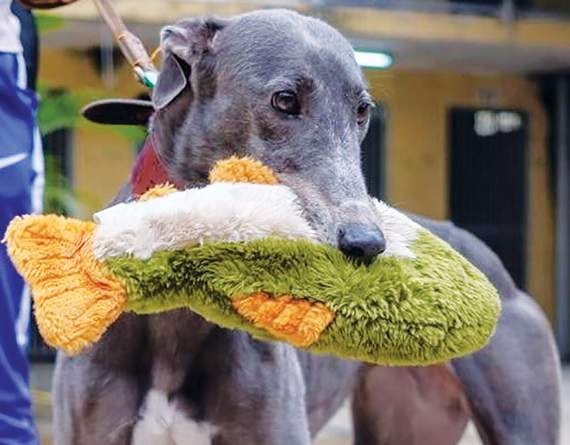 Valentina, who was rescued from the Canidrome in China.
()
Subscribe newsletter
Subscribe to our email and get updates right in your inbox.
Valentine's Day marked a very special occasion for three greyhounds, travelling to the UK from Macau, China, where they were saved from certain death.
For one of the greyhounds onboard the flight into Heathrow, the date was especially poignant, as it was her fifth birthday, and the first one spent outside of Macau's notorious Canidrome stadium.
The closure of the Canidrome in July 2018 was a huge step forward for animal welfare worldwide. The greyhound racing stadium had become notorious for its ill-treatment of the animals that lived and raced there.
When the track closed, up to 650 greyhounds were left inside. With no rehoming mechanism in place for these animals, it was an unprecedented situation that required a worldwide response. Dog rescue charities around the world have pledged to help these animals, and the Asian organisation, ANIMA, has been caring for the dogs locally and preparing them for new homes around the globe.
Three of the rescued greyhounds came into the care of local charity, the Forever Hounds Trust, a greyhound and lurcher rescue and rehoming charity with more than twenty years' experience working with greyhounds that have left the racing industry.
The dogs, originally called Lamma Goit, Oyster Credit and Bound Lil, have been renamed Valentina, Oyster and Amore by the Forever Hounds Trust, in a nod to the date of their arrival in the UK. They will all be found loving homes, where they can live out the rest of their days as a cherished pet.
It's a life that will be very different to what they have known so far. All three dogs were bred in Australia, before being exported to Macau where they have known nothing but life inside the Canidrome. Kept in small kennels with no bedding, no exercise other than racing and no companionship, the greyhounds have led a miserable existence up to now.
During its time in operation, around 120 dogs took part in sixteen races, five days a week inside the Macau Canidrome, which first opened in the 1960s. This required a significant number of dogs being imported to satisfy the demands of the racing industry there. For many years, the majority of these dogs came from Australia. However, following a shocking report on greyhound racing in Asia, the shipment of greyhounds to Macau from Australia stopped and the Canidrome soon looked to other countries to source their animals.
In March and April of 2016, the issue of greyhounds in Macau hit the UK news headlines, when nine young greyhounds from Ireland arrived in Macau, destined for the Canidrome after being exported by their unscrupulous owners. In May of 2016, a further 24 dogs destined for Macau were turned away from Heathrow after their flight crates were deemed to be unsafe for travel.
Increased awareness of the plight of greyhounds in Macau added to the calls for reform, and animal rights groups successfully lobbied for the closure of the Canidrome on 21st July 2018.
For Lamma Goit, now known as Valentina, it will be a remarkable birthday. The beautiful blue coloured greyhound has spent her life in the racing industry and is recorded as having raced 113 times over four years, with her last race in June 2018.
Her travelling companion, Bound Lil, now Amore, will also celebrate a birthday soon after arriving. He turned seven on 17th February. Amore has famous heritage, with his grandfather being the celebrated stud dog, Head Honcho. Having spent more than six years inside the Canidrome, Amore has raced more than 200 times.
Joining them is Oyster Credit, now known as just Oyster, who at almost ten-years-old was one of the oldest dogs remaining in the Canidrome. Oyster had been in more than 190 races, but Forever Hounds Trust suspects that she has also been used as a brood bitch as there are gaps in her racing record and her last recorded race was in September 2016.
If you would like to offer a forever home to one of the rescued dogs from Macau, or to another of the charity's rescued dogs, please get in touch by calling: 03000 111 100, email: [email protected] houndstrust.org or visit: www.foreverhoundstrust.org.