Peasedown organisations work hard to keep items out of landfill
Two organisations in Peasedown are working to keep stuff from being sent to landfill. Over the last three years, The Repair Café has been taking broken items – often electrical but also tools, clothing and woodwork – and mending them.
Wednesday 22nd June 2022 2:30 pm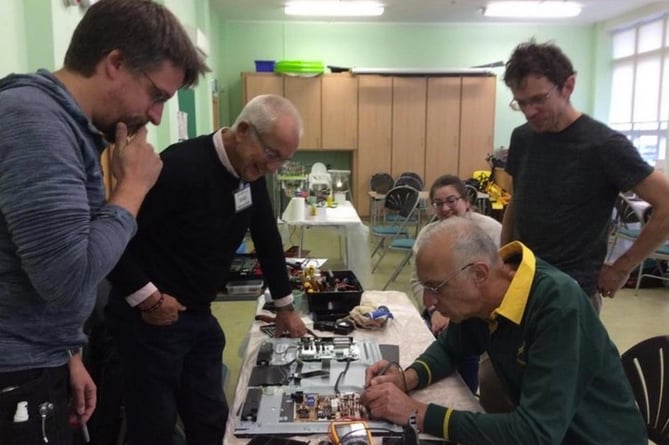 (Repair Café, Peasedown St John. )
Subscribe newsletter
Subscribe to our email and get updates right in your inbox.
Not every item can be mended but the volunteer repairers try their hardest to find the parts that can extend the life of items and stop the environmental impact of replacements.
Part of Share and Repair a charity based in Bath, there are also Repair Cafés in High Littleton and Farnborough.
The Peasedown Repair Café takes place on the fourth Saturday and the next session will be on 25th June from 10 a.m. to 1 p.m. at Peasedown Methodist Church. The hope is that we will have a new volunteer repairer there who has expertise in computers.
The other organisation working to lessen landfill is Peasedown Environment Group (PEG) which runs the monthly Terracycle collections take items like snack packets, pens, pill blister packs, bread bags, oral health products, inkjet cartridges and a lot else, in order that the plastic can be recycled saving landfill and the production of more plastic.
The May collection gathered in over 50kg of stuff which will now be recycled, part of 400kg saved from landfill since August 2020. The next collections are on Thursday 23rd and Saturday, 25th June from 10 a.m. to 11.30 a.m. at Peasedown Methodist Church.
PEG would like to stop collecting these items because it would be far better if we didn't have the plastic packaging in the first place.
So, PEG is campaigning to get shops to reduce their use of plastic. In the meantime, PEG will go on collecting.
The aim of both The Repair Café and PEG is to cut back on waste and take better care of the planet.
The full list of items accepted at the Terracycle collections: Inkjet cartridges, crisp and snack packets, biscuit and cake wrappers, sweet wrappers, oral health products, pens and felt-tips, cheese wrappers, Pringles tins, pill blister packs, bread bags, spectacles and hand-tools.
Comments
To leave a comment you need to create an account. |
All comments 0