Small acts of kindness can be life-changing for those in need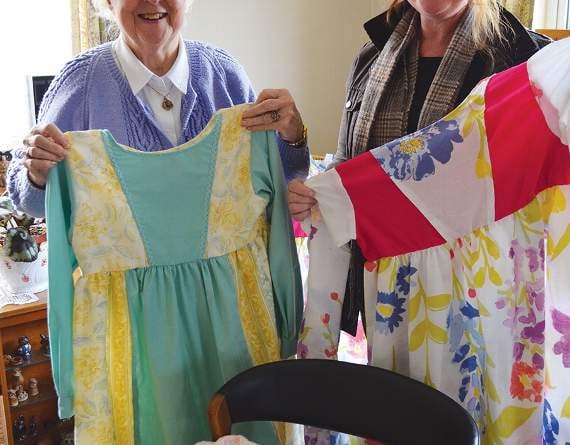 Rosalie Lees and Helen Allen, pictured with two of the 109 dresses that Rosalie has been making and jumpers she has been knitting. Photo: Becky Brooks
()
Subscribe newsletter
Subscribe to our email and get updates right in your inbox.
At a point in history where the world may feel very divided, there are often local people quietly going about doing extraordinary things to make our corner of the planet just a little bit brighter. In turn, perhaps, we may all be inspired to find our 'thing'; a skill or talent that we can offer to make the place we inhabit a little kinder and more tolerant.
Radstock resident, Rosalie Lees, is a remarkable woman doing a remarkable thing. Having dedicated her life to helping blind students in Africa (and being recognised with an MBE for services to the blind), Rosalie has turned her hand to creating dresses out of materials for female refugees, with the materials donated by Midsomer Norton charity, PEOPLE. And in the space of just a few weeks, this unstoppable force has created 109 dresses, sometimes around eight a week, using her kitchen as a sewing room.
Rosalie was introduced to Helen Allen, who readers may remember featured in The Journal for going to Calais' infamous 'Jungle' refugee camp, to volunteer. Alongside her husband, Simon, the couple experienced something that they couldn't leave behind when they returned home, and ever since, Helen has been involved with RAISE; Refugee Action in Somerset East, which has groups of volunteers around the country.
Formed in 2015, RAISE collects, sources and distributes aid to displaced people in Greece, Syria and Northern France. Donations are sorted, boxed up and placed on shipments to those in need. Volunteers, such as Helen, prepare donations to make sure they are in good condition, which are then received at the sister project in Taunton.
RAISE also fundraises and responds to specific needs, for example, providing an emergency fund to a community kitchen when it has run out of food. Most recently, it has been collecting new, thick socks as part of a 'Save Our Soles' appeal, which saw over 1,200 pairs of socks donated. Knitted teddies have also been provided by local groups to give to refugee children in Lesvos and were joyfully received. Any cash that is raised is passed to trusted partners to distribute in other ways, such as for mobile phone top-ups – offering a lifeline for people to reconnect with their families.
Speaking to The Journal, Rosalie explains how she ended up creating so many dresses. "I met Helen through a mutual friend, as I was knitting cardigans. Helen was putting together packs to send; including clothing, but it was becoming apparent that a lot of the Western clothes were not suitable for the female recipients. In Switzerland, I used to make clothing for theatre groups, using a basic pattern and adapting to whatever was needed.
"I began by using different materials from the PEOPLE charity shop and stitching them together – so everything is up-cycled using sheets, duvets and thin curtains, and then I add buttons and trim.
"What I was doing didn't really hit home to me until very recently. It's something that I don't often think about, because I enjoy making them so much. But, I have an adopted Malawian daughter who is a social worker, and she is currently taking on the case of a fifteen-year-old Syrian boy, who is completely on his own. He has lost his home, lost his family. It brought it home to me more personally – the women who might be wearing my dresses almost feel like they could be in a storybook. Imagine, 109 women, wearing something I have created – that doesn't seem real, but knowing about this boy brings it all home."
So, if you feel compelled to help, how can you? A donation drop-off is being held on Saturday, 23rd February from 10 a.m. – 1 p.m. at Midsomer Norton Town Hall (entry on the ground floor). Most-needed items are sleeping bags, children's coats, hats, gloves, scarves, socks, warm men's clothes (size small to medium), women's small to medium size leggings, thermals and base layers. All donations are welcome, but please make sure they are clean and undamaged (imagine a child being handed a coat in the cold, only to find it had a broken zip). Rosalie is also looking for thread, buttons, or ric rac braid for the dresses. If successful, the drop-off may become a regular event at the Town Hall.
Helen adds: "This is something that is not going to go away. It's ongoing, and we can all find something we can get involved with – there's something, or a skill, that everyone can give. It's very easy to feel disconnected in the world, but if we can only see the humanity of the situation, there would be a lot more compassion.
"For example, we were collecting handbags for women that we were filling with a little token of costume jewellery. Many local women were including handwritten notes of support in these bags. The feedback that we had was that this meant so much."
As for Rosalie, will she continue with the dresses? She says: "Well, I had a target of fifty, and then this ridiculous, impossible target of 100. I can't stop now! If anyone reading this wants to help, but can't sew, they can come and weed my garden instead, because it will be very overgrown!"
Rosalie, who is fluent in four languages and helped people for most of her adult life, was once fascinated by Braille, and began to learn it seriously. She was contacted by the charity, Sight Savers, as sighted Braille readers were unusual.
She was asked to decipher letters the charity were receiving; mainly from children in Africa, asking for tape recorders and tape to help with their education.
Disheartened by having to reply without granting their wish, Rosalie says she found some old tape recorders belonging to her children at home, and with the charity's blessing, began to start sending them. She was warned that it would open the flood gates – and it did.
For the next thirty to thirty-five years, Rosalie then dedicated her time to providing tape recorders and writing materials, fundraising to become a registered charity. Rosalie was also reading hundreds of hours of books onto tape, mostly history books. One book alone became 39 ninety-minute tapes!
Her actions completely changed the lives of some.
Rosalie received a letter from a then fourteen-year-old boy appealing for a tape recorder. At the cost of £7, she sent him one. As time went on, Rosalie also sent him a typewriter and kept in touch with how his education progressed. Despite having no extra time given for exams and having to fight for his work to be marked, he now has three university degrees and speaks at international meetings about how that one letter changed his life – and found himself new adoptive parents from Radstock in the process.
Helen adds: "Sometimes you do something that might seem small to you, but can be life-changing in other ways. It's not about massive gestures, but about understanding what people need.
"Hopefully, we can put that butterfly effect out into the world and make it a better place."
For more details on how you can help the refugee project, visit: https://raise.today/ or find them on Facebook by searching for RAISE – Refugee Action in Somerset East.
Comments
To leave a comment you need to create an account. |
All comments 0