Westfield welcomes colourful splash as residents compete for best front garden
During the gorgeous hot weather of early July, consideration had to be taken for the Westfield front gardens that were to be judged for the competition.
Friday 5th August 2022 11:00 am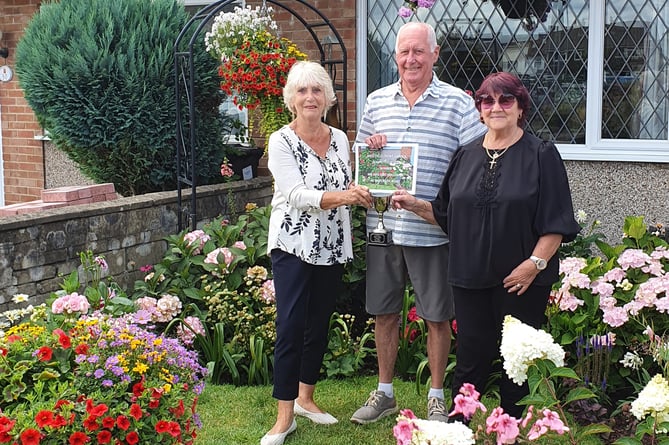 (Westfield Allotment and Garden Society )
Subscribe newsletter
Subscribe to our email and get updates right in your inbox.
Entries this year were once again fabulous. Many gardens in Westfield are looking bright and cheerful and a lot of residents have obviously taken great care to keep them that way.
Unfortunately, our judge on the day was unavailable due to the dreaded Covid. Thankfully, Mr Paul Millard, committee member of Westfield Allotment and Garden Society (WAGS), was able to step in at short notice. On a beautiful day at the beginning of July he toured Westfield looking at gardens and containers that had been entered – either directly by the residents or by passers-by who were impressed with the displays.
We are delighted to announce the winners – Mr and Mrs Holcombe of Waterside Road (pictured right) win for their strikingly beautiful front garden. Mr Holcombe said that they were delighted to have won the competition as they had put a lot of work into their garden this year. One passer-by had made a point of telling them that she passes regularly and it always makes her happy!
This year, due to the special Jubilee events, the Parish Council announced an extra prize for a garden/container that was clearly celebrating the Jubilee. The winner, with a bright red, white and blue display was Ms Helen Moon of Birch Road (pictured below).
Helen was delighted to have been awarded a prize. She said: "I am amazed and delighted that we had been nominated. It gives me such pleasure, the garden, and I was moved to think that people enjoy looking at it. My father, Tony Jones, would have been really proud."
The container prize went to a beautiful hanging basket display in Highfields.
The judge said: "It was a pleasure to be asked to help judge the front garden competition this year. Firstly, may I commend all of the entrants for how well their gardens were presented given how warm and dry the weather has been. The winner of the jubilee category had obviously put in a lot of thought about their display. The front garden winner has also put in a lot of time and effort to present a very pleasing garden that has obviously been well planned. The container/hanging basket winner had used their plants in a very colourful way to present an outstanding display. Well done to everyone."
On awarding the cups and prizes, Vice Chair of the Environment and Development Committee, Cllr Diana Cooper, said: "This front garden was a well-deserved winner. It is absolutely stunning, with an abundance of healthy, colourful plants. A real eye catcher, that brings pleasure to everyone that passes by.
"The Jubilee containers were beautiful, well thought out, and a wonderful addition to the Jubilee celebrations."
The winners each received a cup to commemorate their win and a voucher to spend at Thomsons Hardware in Radstock. The Parish Council would like to thank Thomsons for their continued support.
Huge thanks, also, to Mr Paul Millard for stepping in at such short notice to do the judging.
Comments
To leave a comment you need to create an account. |
All comments 0