Temple Cloud Cricket Club – 100 not-out!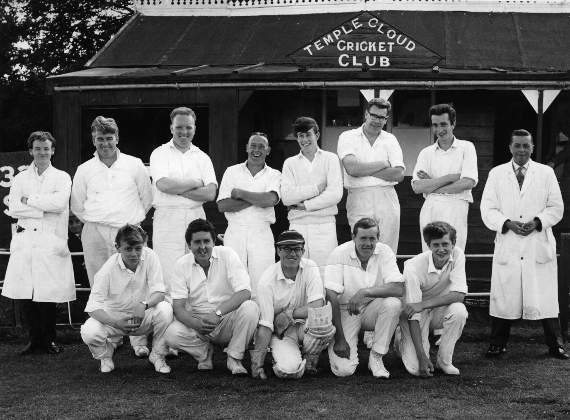 Subscribe newsletter
Subscribe to our email and get updates right in your inbox.
After the traumas and deprivation of the First World War, thoughts turned towards freedom, sport and the future. As a result, Temple Cloud Cricket Club was founded in 1919 by local residents of the parish of Cameley.
Prominent members were from the Stock and Flower families, who had previously held low-key, friendly inter-family matches in the parish during the War.
When formed, initial matches were against local teams, initially at Bran Down and later at Red Hays, again, both in the Parish of Cameley. Red Hays was used until the approach of the Second World War, with fairly basic conditions, so an approach was made to Cecil Tucker, a local landowner, to seek assistance for a new site.
He was sympathetic to the request, and suggested a field adjacent to Stowey Road, which could be suitable and made available. This was to become the home of Temple Cloud Cricket Club up to the present day.
Much work was necessary for it to become an established cricket field. During the Second World War, few games were played, but from 1945 onwards, moves were made to improve the ground and facilities.
A green wooden building was purchased, which had been used on the Mendips as a sanitorium for TB patients. It was converted into a pavilion with changing room, tea room, veranda and basic tea-making facilities. At that stage, there was no running water, which was brought from Mr Elford's by churn.
This pavilion was replaced in the late 1960s by a permanent structure, which consisted of two changing rooms, a tea room and tea-making facilities with mains water also available. As the club grew, it was necessary to increase and improve the facilities. A further extension was added in 1978 and again in 1988. The 1978 extension incorporated a skittle alley and bar, which was to become an important factor in the growth of the club. Over the years, a permanent roadway to the pavilion was built, water laid on to the square, and permanent nets were constructed and subsequently upgraded.
These improvements were only possible by courtesy of our then landlord, Monty Tucker, who succeeded his father, Cecil, in becoming President in 1967 and continuing until 2006. Son, Andrew, then kept the family tradition going by becoming President in 2007, and continuing to the present day.
On the playing front, the Club also thrived, moving from playing friendly games against local teams to joining the Somerset League in 1973 with success; being currently in the Premier Division of that League.
The club also entered the Haig National Village KO Competition, played on Sundays. In 1973, they were beaten by Ruishton in the Somerset Final, but went one better in 1975, going on to beat the Wiltshire Champions, Spye Park, to reach the last sixteen in the country. They were then beaten by the Cornish and South West champions, Grampound Road, in front of a crowd of over 300 at Stowey Road.
Temple also had success in the Somerset 20/20 KO competitions, getting to the Taunton Final on several occasions and winning the Minor Cup in 1970, 2007 and 2009 and the Intermediate Cup in 2018. The club has also had a successful youth policy for a number of years; the best example of which is Julian Wyatt, who started at Stowey Road and went on to represent Somerset.
Some other points of interest over the years are as follows: Temple entertained the cast of My Fair Lady, appearing at the Hippodrome, courtesy of nightclub owner, John Poling. He also arranged a coach party to play at his old club, Stansted Park, in Sussex. Temple were regularly supported by locals on Sunday afternoon matches, who became known as 'rent a crowd'!
In 1989, they hosted a Somerset Benefit Game for Denis Breakwell and Trevor Gard, which was well supported by Somerset players and locals alike. In one charity game, a parachutist, due to jump on to the ground, touched an electric line and blacked out part of Clutton!
They also held a very successful Donkey Derby to raise funds towards the club extensions, a car boot sale, and several treasure hunts. Darts and skittles competitions, and a six-a-side cricket KO Competition also played their part in raising club funds.
Whilst the club has had many long-serving players and officials, mention must be made of Pat and Lou Edwards, who retired in 1989 after many years of service. Also, John Cox, a lifelong player and Captain, who was instrumental with others in getting the new pavilion and extension projects underway.
The Roll of Honour boards in the clubhouse do not do full justice to the amount of time and effort put in by those individuals; all on a voluntary basis. Many others do not appear on the boards, but their contributions should not be overlooked or undervalued.
A feature of the club over the years is that whilst there has been a hardcore of local members, others have joined from around the area. Several families, such as the Appleyards or Veaters, have seen players of three generations, and it is to be hoped that this trend will continue in the future.
In closing, it must be stressed that none of the above could have taken place without the goodwill and benevolence of three generations of the Tucker family. Cecil, Monty and Mary; then Andrew and his wife, have consistently given invaluable support to the club.
Temple Cloud Cricket Club cordially invites past and present members and friends to a get-together between 11 a.m. and 4 p.m. at the Pavilion at Stowey Road on Sunday, 7th July. Memorabilia from the club's archives will be on show, and it will give people a chance to reminisce about the past, and see how far the club has come, as we look to the future.
For further information about the club, please contact: templecloudcricketclub.co.uk
Comments
To leave a comment you need to create an account. |
All comments 0